Scylla Models' Tabletop Champions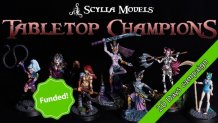 Scylla Models' Tabletop Champions
by Scylla Models
Scylla Models launches a fantasy miniature line to play as heroes (or foes) in yours roleplaying, tabletops, skirmishes and wargames.
September 2017, Italia, Italy, IT
Here is only preview of the project. See full info, rewards and updates on main
project page
.
Project start:
9 September 2017
Project end:
29 September 2017
Last update:
13 September 2017
Next update:
~ 23 September 2017
Last project rescan: 1 hour 36 min ago
References
No references was added. Every user can add them.