XCase Ultra Clear Expandable Miniatures Display Case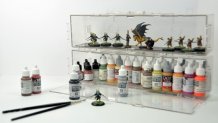 XCase Ultra Clear Expandable Miniatures Display Case
by Active Minds Games
The XCase is the only Expandable, Transportable, Configurable Display case for gaming miniatures and other small collectibles.
March 2017, Bothell, WA, US
Here is only preview of the project. See full info, rewards and updates on main
project page
.
Project start:
7 March 2017
Project end:
14 April 2017
Last update:
17 March 2017
Next update:
~ 28 March 2017
Last project rescan: 7 hours 59 min ago
References
No references was added. Every user can add them.