BLACKSMITH MINIATURES : World of Jean-Baptiste MONGE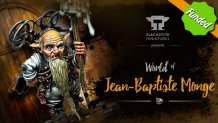 BLACKSMITH MINIATURES : World of Jean-Baptiste MONGE
by BLACKSMITH MINIATURES
Magnificent series of high-quality 54 mm miniatures in resin to collect and paint, based on the illustrations of Jean-Baptiste MONGE.
March 2017, Lyon, France, FR
Here is only preview of the project. See full info, rewards and updates on main
project page
.
Project start:
15 March 2017
Project end:
12 April 2017
Last update:
24 March 2017
Next update:
~ 27 March 2017
Last project rescan: 7 hours 35 min ago
References
No references was added. Every user can add them.