Old School Miniatures
We are a miniatures company dedicated to producing wargaming figurines in the aesthetic of the golden age of fantasy wargaming: the late 1980's. We work with venerable sculptors as well as new talent. Our staff is composed of gamers who are driven by their love of the hobby and want to share their hobby with as many others as possible; but we can't do it for free.
Our target niche is filling the miniature gaps in the old bestiaries in a way useful to wargames and making miniatures that have that special nostalgia factor from our childhoods. We hope that you love our miniatures as much as we do.
Нет описания на русском языке. Любой может его добавить, но пока не дошли руки.
This is not official page of this company. Use links under company's logo to go to official site.
---
Can't find your miniature? Add it.
---
Crowd Funding Projects from Old School Miniatures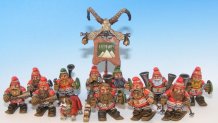 Old School Miniatures presents the Alpine Dwarfs
Many years ago the dwarfs realised that to fight the good fight they would have to emerge from their mountain holds. 28mm metal minis
November 2017, Exeter, UK, GB
Alpine Gnomes by Old School Miniatures
28mm scale army for traditional fantasy tabletop or other wargames
May 2017, Exeter, UK, GB
Old School Miniatures Presents: The Daemon Cannon!
Welcome to Old School Miniatures! \nSculpted by John Pickford and inspired by the great sculpts of the 1980's, BEHOLD The Demon Cannon!
October 2016, Exeter, UK, GB
---
Reviews and Links about Old School Miniatures
There is no reviews and articles links. Add one!
---
---