Titan-Forge
Titan Forge, Inc. was founded in 2011, and right from the start had a big impact on the miniature market worldwide. Company of "gamers for gamers", Titan Forge goal is to create miniatures of highest quality – both in design and in details. Bloodsail Island Pirate Ogres and Drakskull's Menace quickly gained recognition among hobbyists and collectors, and ensured the company position. Titan Forge goal is to create best themed armies, either by inventing new ideas, or by toying with existing ones – and while doing that, maintaining individual and friendly approach to each customer.
Metal Beards - Fantasy Football Steampunk Dwarf Team campaign is a result of joint project of Titan Forge and Stuart Brown.
Нет описания на русском языке. Любой может его добавить, но пока не дошли руки.
This is not official page of this company. Use links under company's logo to go to official site.
---
Can't find your miniature? Add it.
---
Crowd Funding Projects from Titan-Forge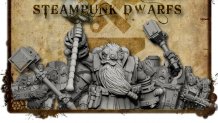 Metal Beards - Tabletop Dwarf Army
Alternative dwarf miniatures for Longbeards fans. Powered by Steam & Iron
Setting:
Fantasy
December 2013, Antrim, UK, GB
Metal Beards - Fantasy Football SteamPunk Dwarf Team
We proudly present a complete team of Steampunk Dwarfs designed to put enemies between the anvil and some more iron.
---
Reviews and Links about Titan-Forge
There is no reviews and articles links. Add one!
---
---
History of Titan-Forge logo
---